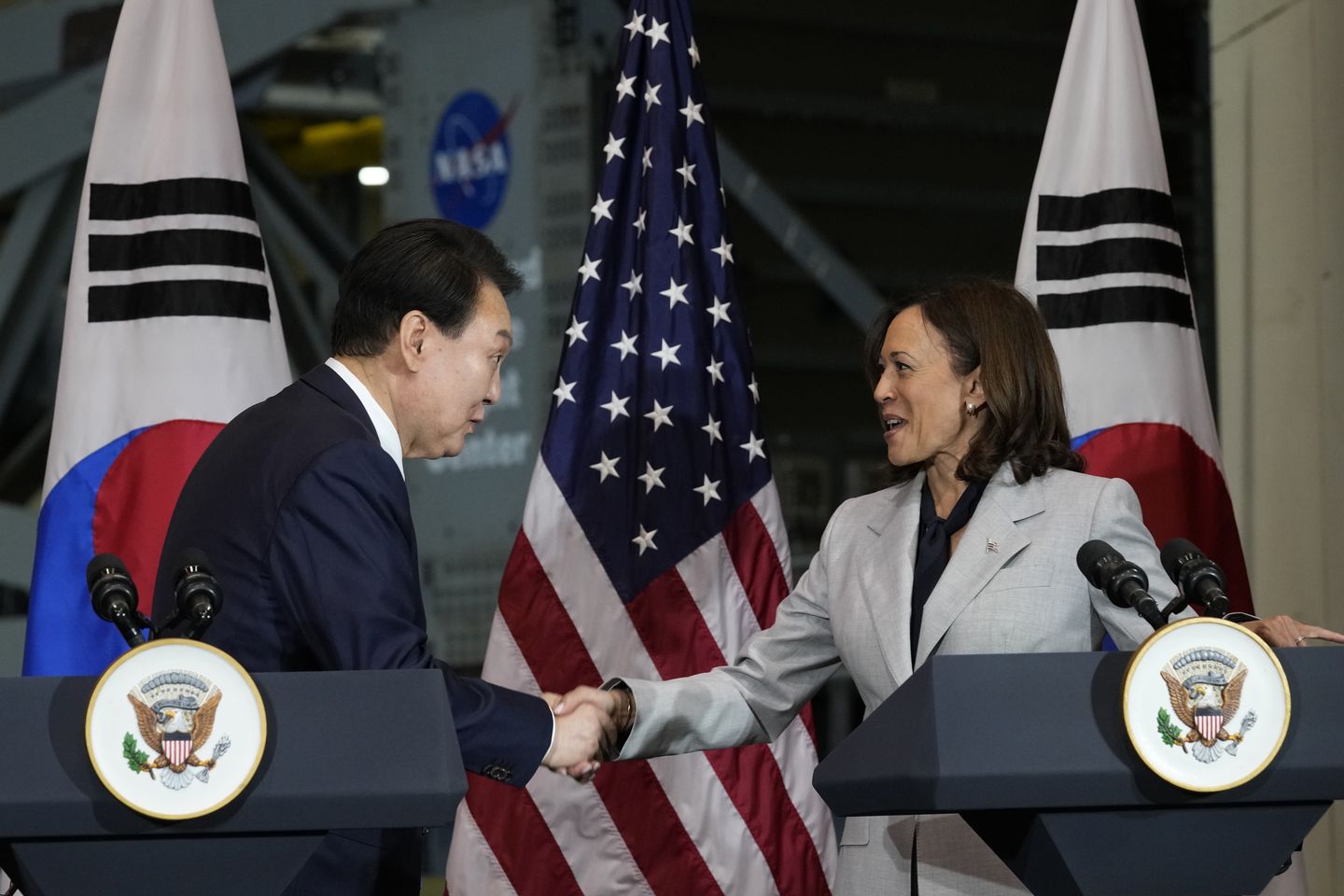 Vice President Kamala Harris on Tuesday hailed the 70-year alliance between the U.S. and South Korea as the "linchpin of security" in the Indo-Pacific and said the partnership will reach new heights with an agreement on space exploration and lunar research.
Ms. Harris and South Korean President Yoon Suk Yeol toured NASA's Goddard Space Flight Center to mark the agreement and launch Mr. Yoon's six-day state visit to the U.S.
The vice president described Goddard as a "place of great pride for us as Americans" and said its work is "awe-inspiring."
"We renew our commitment to strengthen our cooperation in the next frontier of our expanding alliance — and, of course, that is space," Ms. Harris said in joint remarks with Mr. Yoon.
The vice president met with Mr. Yoon on the same day that Ms. Harris and President Biden said they would seek a second term.
Mr. Biden frequently elevates the first female vice president by characterizing his team as the "Biden-Harris administration," and the Yoon visit provided the pair an immediate chance to burnish their foreign policy resumes.
Mr. Yoon said mankind's future "lies in space" and said his interest in the topic began with the first lunar landing by U.S. astronauts in 1969.
"I still vividly remember watching that historic moment," Mr. Yoon said. "It was during a summer break when I was in third grade, and ever since, for me personally space has been the embodiment of dreams and new challenges."
Ms. Harris and Mr. Yoon discussed cooperative efforts on space exploration and climate issues and met with Korean-American space experts. They toured an acoustic chamber and explored the Hyperwall, a video wall that displays high-definition images across multiple screens.
Prior to the visit, NASA and the South Korean Ministry of Science signed a Joint Statement of Intent for Cooperation on Space Exploration that will solidify partnerships around communications, space navigation and research on the moon.
Mr. Yoon said the agreement will be a "springboard for taking space cooperation between our two allies to the next level."