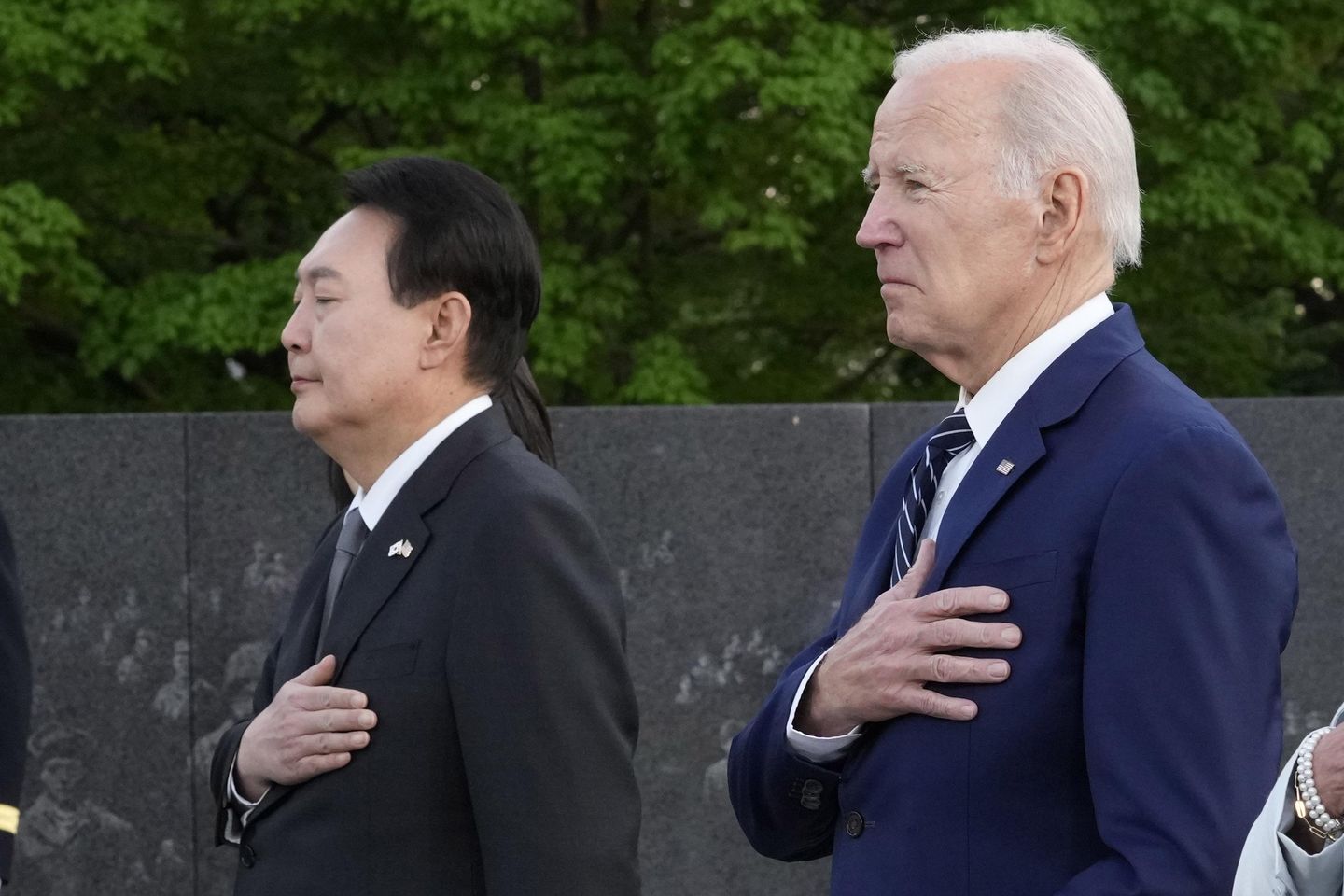 The U.S. will deploy nuclear submarines to South Korea for the first time in 40 years under a new agreement that strengthens Washington's commitment to defend Seoul against nuclear threats from North Korea, White House officials said.
The White House said the agreement — dubbed the Washington Declaration — is the most significant arrangement since the Cold War.
President Biden and South Korean President Yoon Suk Yeol will sign the agreement on Wednesday as part of Mr. Yoon's state visit to the United States.
A senior White House official told reporters that the arrangement is aimed at making U.S. deterrence "more visible" through the regular deployment of strategic assets, including a U.S. nuclear ballistic submarine.
The last time a U.S. nuclear submarine docked in South Korea was in the early 1980s, according to the White House.
The Washington Declaration won't include the deployment of nuclear weapons to South Korea as it did during the Cold War, officials said. Instead, the U.S. will increase the number of military assets it sends to South Korea on a temporary basis, such as nuclear-armed submarines and bombers.
---
SEE ALSO: Bidens welcome South Korean president, wife to White House for state visit amid leak tensions
---
Under the agreement, the U.S. and South Korea will create a joint nuclear consultative group to improve the sharing of nuclear-related intelligence. It will focus on nuclear and strategic planning issues and give South Korea additional insight into how the U.S. plans "for major contingencies," the official said.
Mr. Yoon will also reaffirm South Korea's commitment to the U.N. Nuclear Non-proliferation Treaty, which Seoul ratified in 1975 and which prohibits the country from acquiring nuclear weapons.
North Korea's nuclear saber-rattling has stepped up recently as Pyongyang increased its ballistic missile tests. Earlier this month, North Korea tested a solid-fuel intercontinental missile, a possible breakthrough in its efforts to produce more powerful weaponry.
U.S. officials say North Korea is preparing for its seventh nuclear test, which would be its first since 2017.