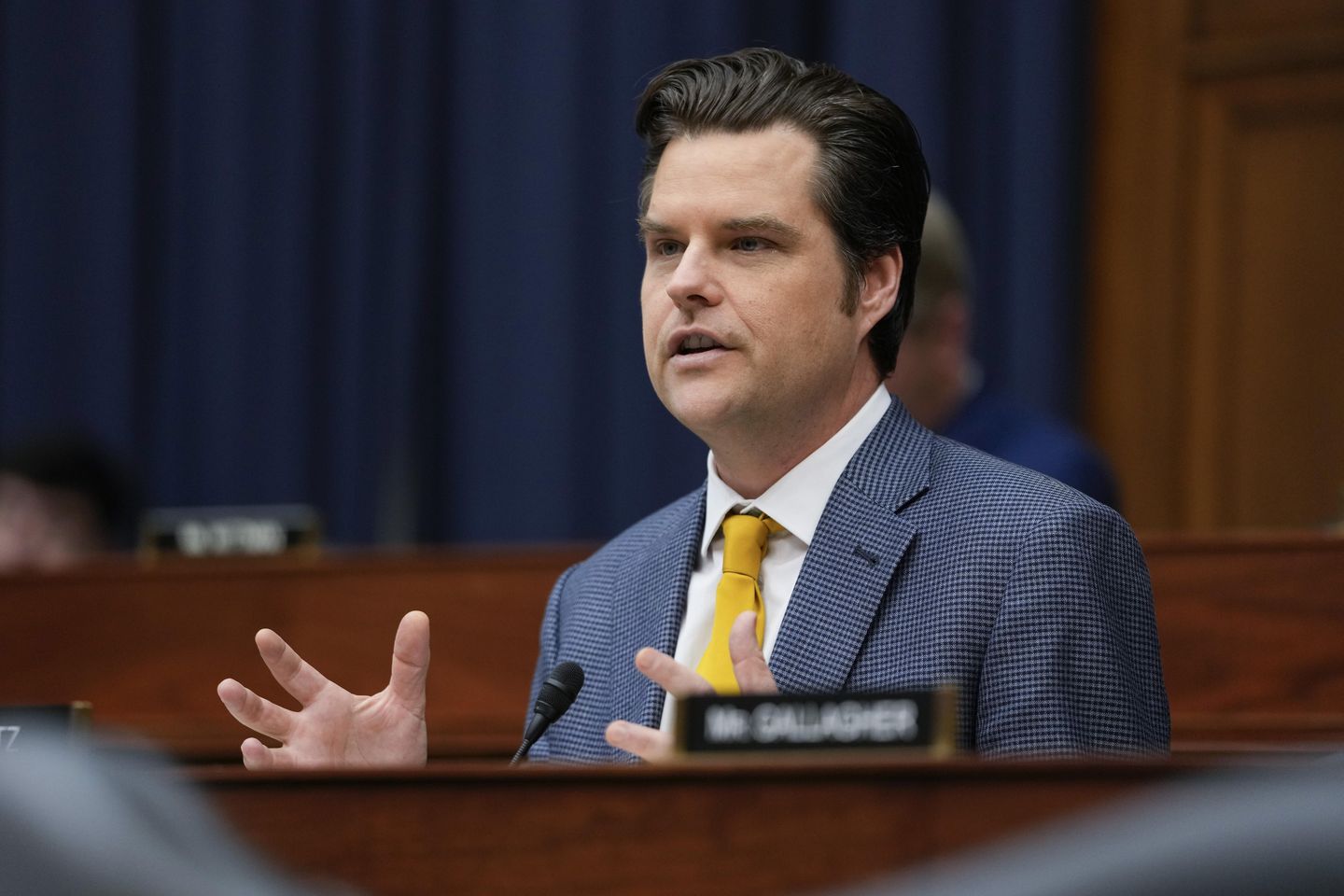 MIRAMAR BEACH, Fla. — Two women have now been charged with throwing drinks at U.S. Representative Matt Gaetz.
The most recent was on Saturday, when Selena Chambers, 41, of Tallahassee, threw a glass of wine at the Republican congresswoman at an event in Miramar Beach and shouted obscenities at him, the office said. Walton County Sheriff in a Facebook post.
"We cannot allow an environment where you can throw things at elected officials because you don't like them," Sheriff Michael Adkinson said in a statement. "No matter your political affiliation, this is not the way to conduct yourself and will not be tolerated in Walton County."
Miramar Beach is about 80 miles east of Pensacola and is part of the Florida Panhandle congressional district of Gaetz.
Chambers was charged with battery and released on $1,000 bail on Sunday.
Defense attorney Matthew A. Karp said in an email that his own investigation revealed that Gaetz and his group were engaged in a verbal altercation with a group of women at the South Walton Beaches Food & Wine Festival.
"This investigation initially showed that Rep. Gaetz was both an aggressor and an agitator, and we look forward to taking his deposition," Karp said. "My client, Selena Chambers, maintains her innocence in this matter, and we intend to vigorously defend ourselves against the allegations of Representative Gaetz."
In June 2019, another woman had already been sentenced to 15 days in federal detention for throwing a sports drink at Gaetz. Amanda Kondrat'yev was part of a group demonstrating in front of a town hall meeting at a restaurant in Pensacola. A cup hit Gaetz in the back as he left the meeting, and several witnesses identified Kondrat'yev as the person who threw it.
Gaetz, first elected to Congress in 2016, is known for his strong support for former President Donald Trump and his membership in the highly conservative Freedom Caucus in the House. Earlier this year, Gaetz announced that the Justice Department had decided not to press charges against him following a lengthy sex trafficking investigation.
Copyright © 2023 The Washington Times, LLC.