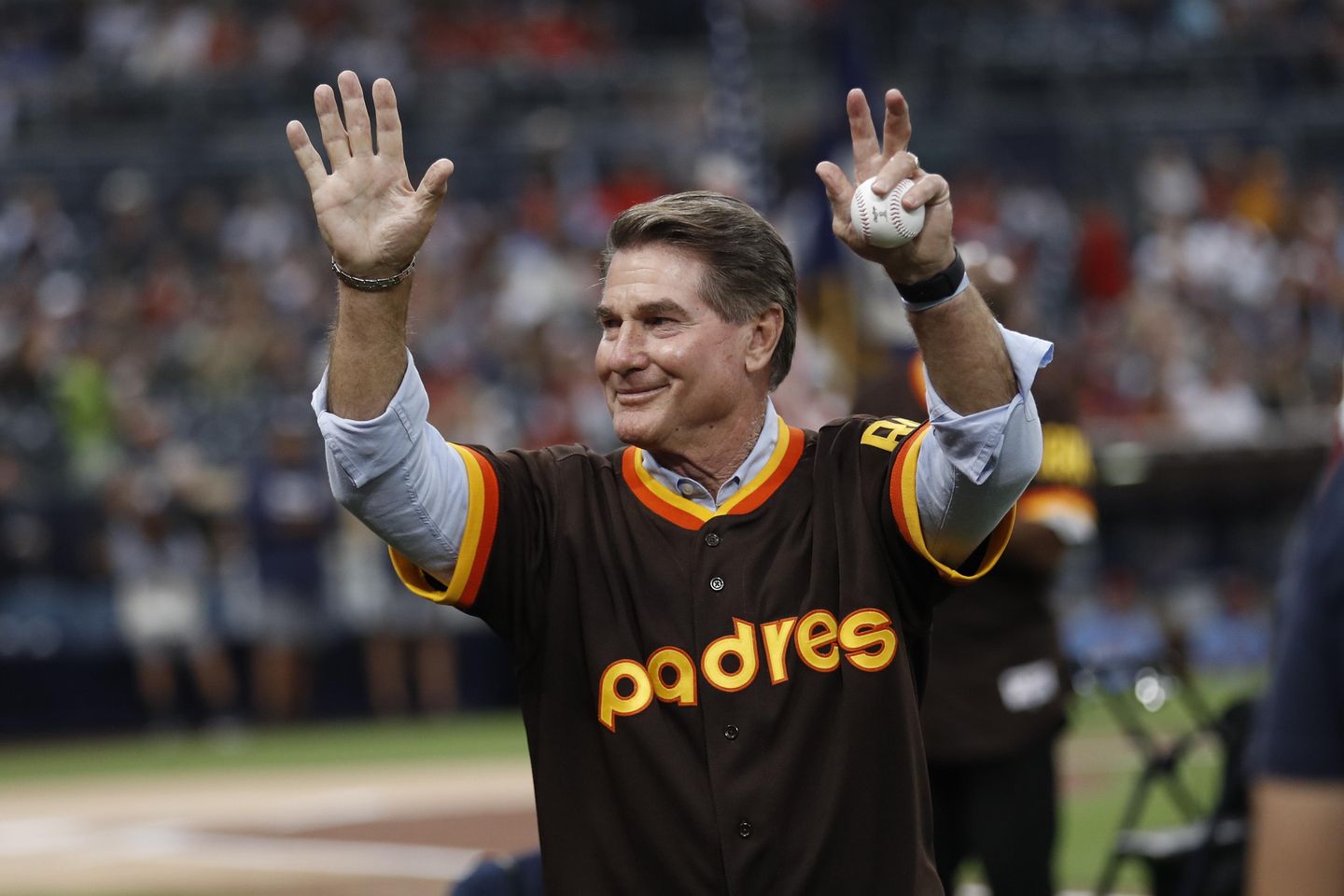 LOS ANGELES — You'd have to go back a generation — to 1988 — to find the last time a Republican candidate won a U.S. Senate race in heavily Democratic California. This time, the party might get an MVP on the ballot.
Baseball legend Steve Garvey, who played for the Los Angeles Dodgers and San Diego Padres, meets with voters and senior GOP officials as he weighs a potential 2024 Senate bid in a race that's already counting several prominent Democratic contenders on the court. He appeared at a recent fundraiser for Republican Representative Michelle Steel in Orange County, where he signed baseballs and spoke about his potential candidacy.
"He is seriously considering going into the race," said veteran consultant Andy Gharakhani, who advises Garvey.
---
---
Garvey, 74, had an 18-year major league career. He was National League MVP in 1974 and retired from baseball in 1987.
Garvey has flirted with the possibility of entering politics before, including after his retirement from baseball, when he teased a possible run for the U.S. Senate but never became a candidate.
"I have been approached to run for office and I am exploring this. No announcements are imminent," Garvey said in a statement released by a Dodgers team spokesperson.
Garvey's candidacy would revamp a growing field that already includes Democratic Representatives Katie Porter, Adam Schiff and Barbara Lee. The seat is held by Democratic Senator Dianne Feinstein, who has announced that she is not seeking another term.
Yet even with his celebrity shine, Garvey would enter the race as an underdog. Democrats hold all statewide positions and dominate legislative and congressional delegations. Republicans — who are outnumbered about 2 to 1 by Democratic voters in the state — have struggled for years to find candidates for the top jobs.
In the last two U.S. state Senate races, GOP candidates have performed so poorly in the primary election that only Democrats qualified for the November ballot. Garvey's candidacy could give the GOP a chance to run in the November election, which could boost the party's turnout and also help GOP candidates cast ballots.
In recent election cycles, Republicans in California have criticized the state's Democratic-dominated government, blaming the rival party for notoriously high taxes, a homelessness crisis, rising crime rates in cities and housing prices out of reach for many working-class families. .
Republican attorney Eric Early — an unsuccessful candidate for state attorney general in 2022 and 2018 and for Congress in 2020 — entered the Senate contest in April. He said he would campaign for the votes of "forgotten" Californians and against what he called the "far left" ideology seeping into government.
"I think Steve Garvey would be one of the most interesting and dynamic candidates for statewide office that Republicans have had in decades," said Republican National Committee member Shawn Steel. , married to MP.
"He's good on the stump…and he reminds me of a Reagan-esque approach," Steel added, referring to former Republican President Ronald Reagan, another Californian.
• AP Writer Beth Harris contributed.
Copyright © 2023 Washington Times, LLC.