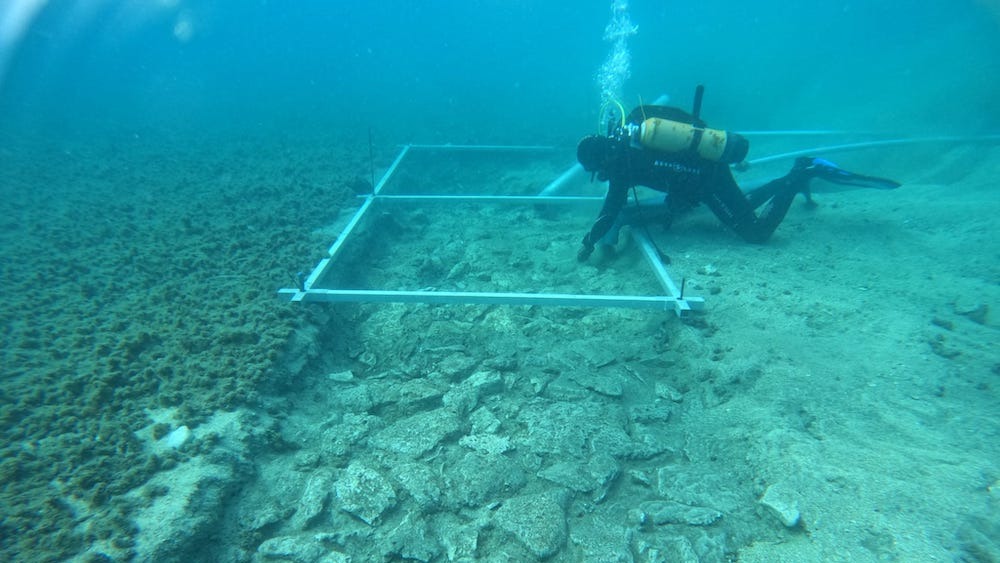 The submerged ruins of a 7,000-year-old road hide underwater off the Croatian island of Korčula. The Neolithic structure once connected the island to an ancient man-made landmass.
Archaeologists announced the discovery of the "strange structures" in a May 6 post on Facebook (opens in a new tab), describing them as the remnants of a causeway that are now submerged about 16 feet (5 meters) below the Adriatic Sea. The road consists of "neatly stacked slabs of stone" measuring about 13 feet (4 m) wide. The stone pavers had been buried by mud over millennia. Archaeologists believe the stone causeway was built by the Hvar, a lost maritime culture that resided in the area during the Neolithic period (6000 BC to around 3000 BC).
Related: Strange 'yellow brick road' to Atlantis discovered on top of ancient underwater mountain
"We [also] found ornamented late Neolithic pottery, [a] stone axe, bone artifacts, flint knives and arrowheads, " Mate Parica (opens in a new tab), an assistant professor in the Department of Archeology at the University of Zadar in Croatia who participated in the excavations, told Live Science in an email. "[The] help with pottery discoveries[ed] us to attribute this site to [the] culture of Hvar."
Archaeologists believe that the road once connected a nearby Hvar settlement called Soline with Korčula. Archaeologists discovered Soline, which is also submerged but once resided on an artificial landmass, in 2021 during a previous archaeological survey. By radiocarbon dating wood found at the site, they determined that the settlement dates to around 4900 BC. AD, according to the translated statement.
"People were walking on it [roadway] almost 7,000 years ago, Igor Borzic (opens in a new tab)an archaeologist from the University of Zadar who also participated in the underwater excavations, said in the statement.
Because the remains of the settlement are surrounded by several islands, it is protected from large ocean waves," according to Reuters (opens in a new tab).