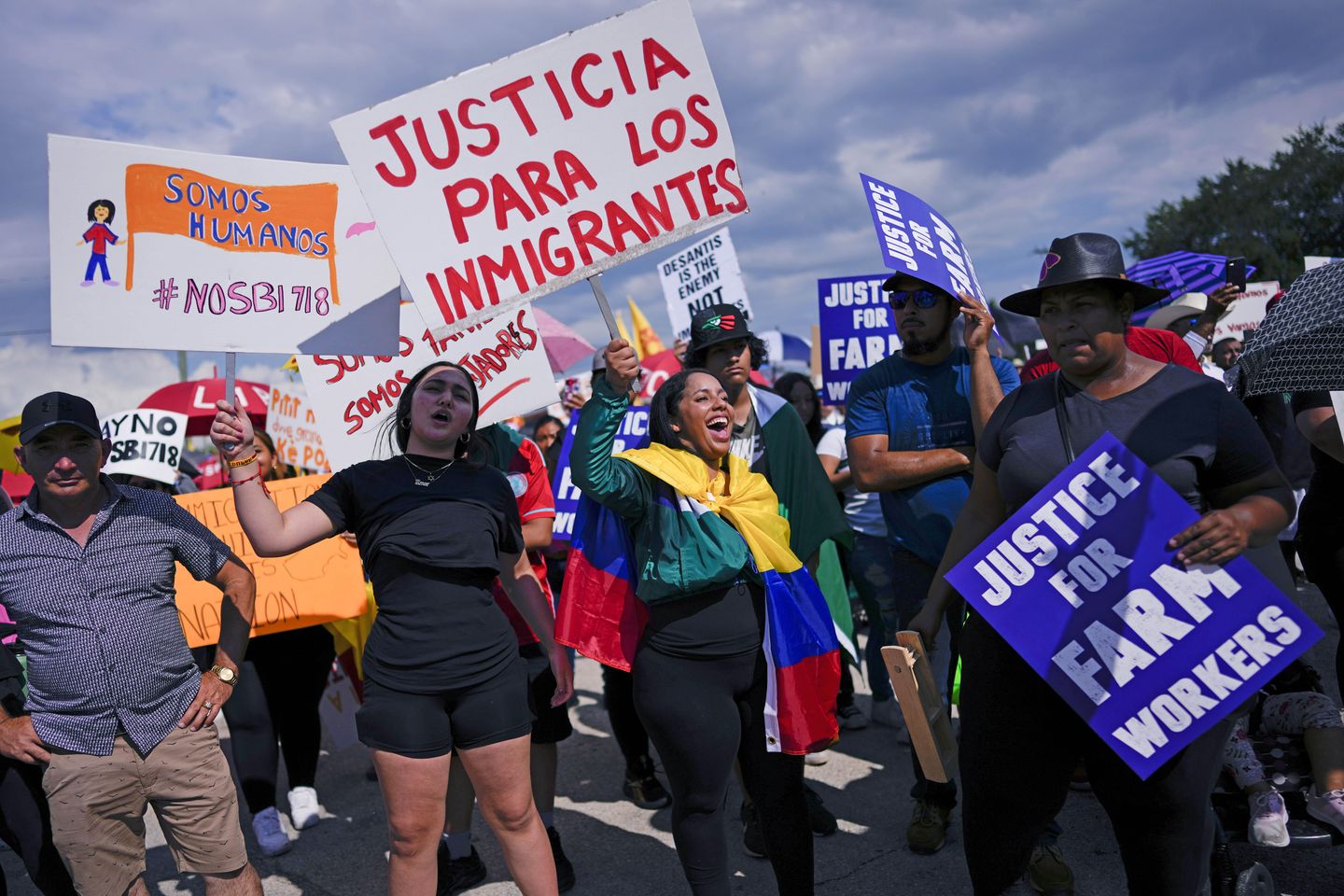 IMMOKALEE, Fla. – Across Florida on Thursday, workers failed to show up at construction sites and tomato fields and dozens of restaurants, stores and other small businesses never opened in protest of a new state law that imposes restrictions on undocumented immigrants.
Organizers called the protest a "day without immigrants".
In the Orlando area, dozens of protesters, some driving trucks with small construction cranes, demonstrated at a busy intersection outside the office of a state legislator who had championed the law.
---
---
In Immokalee, an area of ​​southwest Florida known for its tomato fields, hundreds of protesters, many with families, marched two miles around town, chanting and carrying signs.
In Fort Lauderdale, opponents of the law chanted and waved flags outside Isis Cordova's Latin restaurant, which was closed in protest.
"I managed to obtain legal status in this country, and I said that one day, when I have documents, I will raise my voice. I will also speak for those who have no voice," Cordova said. "Because I know what it's like to be in those shoes on the other side, with that fear and living in the shadows."
---
PHOTOS: Opponents hold 'Day Without Immigrants' in Florida to protest new restrictions
---
Legislation that Florida Governor Ron DeSantis signed into law last month strengthens his migrant relocation program and limits social services for immigrants without permanent legal status. It also expands requirements for companies with more than 25 employees to use E-Verify, a federal system that determines whether employees can legally work in the United States. Another provision requires hospitals that accept Medicaid to include a citizenship question on admission forms, which critics said. aims to deter immigrants living illegally in the United States from seeking treatment.
Last month, the Latin American civil rights group LULAC issued a travel advisory for Hispanics, warning that the new law marginalizes immigrant communities and is immoral. Other civil rights groups, including the NAACP and the Human Rights Campaign, have also issued travel advisories for Florida, saying the new laws and policies by DeSantis and Republican lawmakers are "openly hostile to African-Americans." Americans, people of color and LGBTQ+ people."
DeSantis launched a campaign for the 2024 GOP presidential nomination last week.
A spokesman for the governor's office said Thursday that the new law targets illegal immigration, not those who are legally in the United States.
"The media has been deliberately inaccurate on this distinction between legal and illegal immigration to create this kind of outrage based on a false premise," said Jeremy Redfern, press secretary for DeSantis' office. "Any company that exploits this crisis by employing illegal aliens instead of Floridians will be held accountable. Each country defends its borders with a sovereign right to do so.
Isaac Dubon, owner of a construction company in South Florida, said immigrants are important to Florida because they do jobs that others won't.
"We work a lot in this country, 15 or 16 hours straight," Dubon said. "We are going through a lot. We also pay taxes, like everyone else, and we support the country's economy.
Copyright © 2023 Washington Times, LLC.