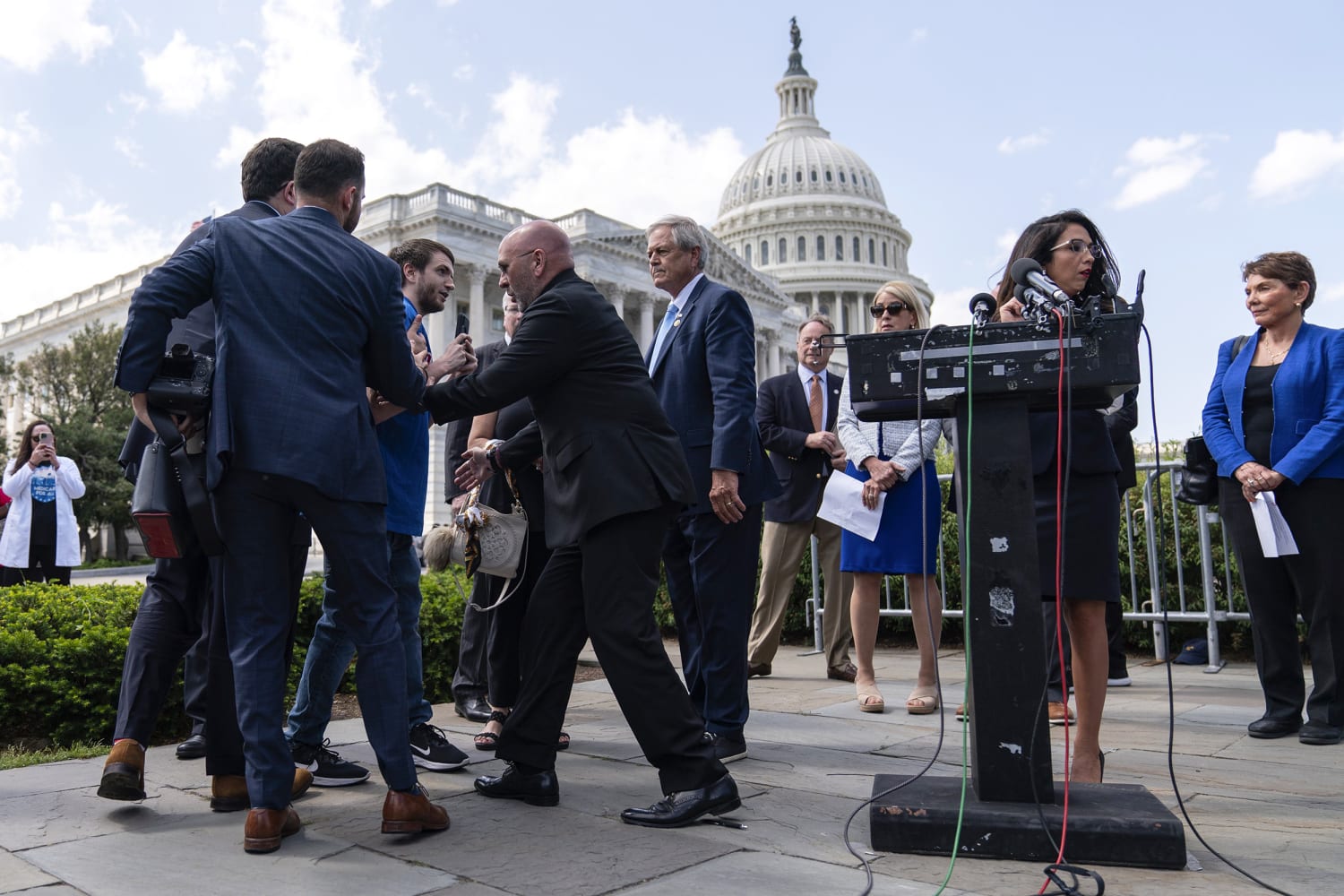 Rep. Clay Higgins, R-La., on Thursday defended an activist's withdrawal from a press conference on Capitol Hill the day before.
On averageidea posted on Twitter, Higgins can be seen grabbing and pushing progressive activist Jake Burdett away from an outdoor press conference where Rep. Lauren Boebert of Colorado and other House Republicans were talking about the World Health Organization. health on Wednesday.
After Burdett, 25, approached the podium and asked Boebert questions, including the fact that she had recently filed for divorce, Higgins stood in front of him and said, "You are out. You are outside."
Higgins, 61, then began pushing Burdett.
"Let me go. Let me go, Clay Higgins. Let me go. What are you trying to do, Clay Higgins? Burdett can be heard saying while repeatedly asking to be let go. "You're manhandling me. Me."
Higgins told Burdett to "calm down."
Higgins defended his actions in a brief statement Thursday.
"The activist was a 103M. Threatening," Higgins said, in an apparent reference to a police code for "mental person disturbance."
"He was escorted and handed over to Capitol Police. Manuel," Higgins said.
Higgins also posted a video on Twitter in which he suggested that Burdett "became very disruptive and threatening, in violation of the law", and that he "aggressively disrupted MP Lauren Boebert and approached her in a threatening manner". .
Burdett, who earlier Wednesday attended a rally on Capitol Hill in support of the Medicare for All Act, did not immediately comment Thursday evening.
Kristy Fogle, founder of the Maryland Progressive Healthcare Coalition, which posted video of the incident, said on Twitter that the police "watched my video and held Jake across the street until after the press conference."
Fogle did not immediately respond to a request for comment.
The United States Capitol Police also did not immediately respond to a request for comment Thursday evening. In a statement to The hillthe agency said, "We are aware of this situation, interviewing those involved and reviewing available video."
Brian Gallion contributed.