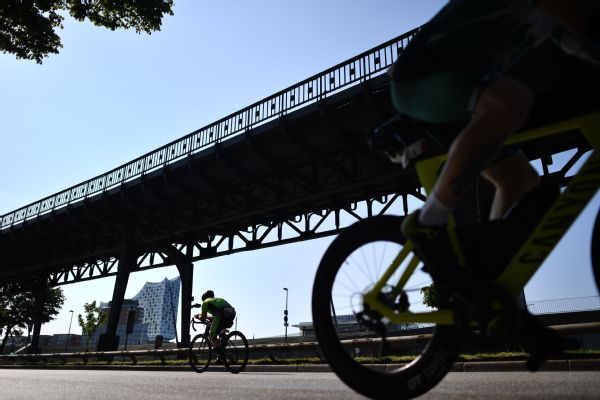 A motorcycle rider was killed and a triathlete seriously injured in a collision during the Ironman European Championships in Hamburg, Germany on Sunday, police said.
The rider carrying the cameraman collided head-on with the bike in a narrow section of the race where the competitors were using both lanes and the bike carrying the cameraman was running in the middle of the road.
The crash occurred during live coverage of the race before Germany's ARD broadcaster interrupted the broadcast.
Police said the 70-year-old rider died at the scene. The 26-year-old triathlete was seriously injured. The 50-year-old cameraman was also shocked and taken to the hospital for treatment.
"At the scene of the accident, the closure of the racetrack was inevitable," Hamburg police said in a statement. "Athletes had to get off in front of the accident site and cross the embankment. The racetrack was temporarily diverted in the direction of the city centre."
The race was suspended but resumed after a short delay.
"We are deeply saddened to confirm the death of a motorcycle driver following a serious medical accident," the organizers said in a statement. "Our thoughts are with the family and we will do everything we can to support them through this difficult time."
Reuters and Associated Press contributed to the report.